Letting Villa Cecilia
Boutique maison Villa Cecilia is situated just outside the village of Pelekas, Corfu, one of the Ionian paradise islands of Greece. With an all-Greek traditional ambiance, our Boutique maison villa is a charming, romantic destination to spend a magical time with friends and family. It's not just accommodation, it's your private Villa, in which the original elegance has remained. Custom-made hospitality, we value your comfort, your need to rest and recharge. Let go and have fun!
We meet & greet you in person. A member of the Villa Cecilia team will be there to personally give you a tour of the villa and welcome you into your home.
Have a wonderful stay!
Judith Kruijssen, Staff & Family
Rates & Services
For availability & rates we will be happy to send you the brochure of Villa Cecilia.
Chef & Assistant from April - September to prepare breakfast and dinner 6 days per week, and lunch 3 days per week.
Housekeeping 6 days a week up to 3 hrs per day. Change of linen twice a week.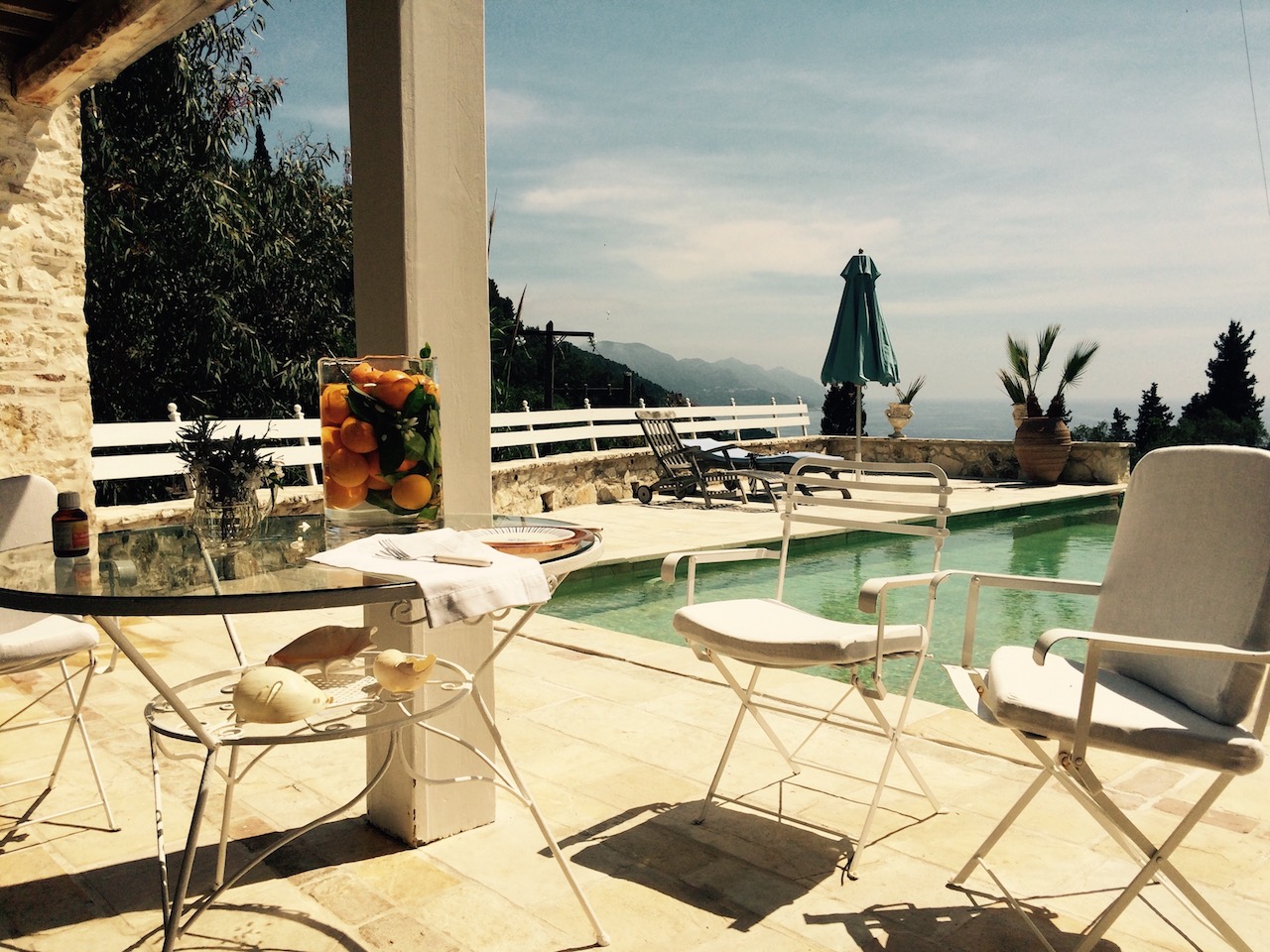 Stone and bricks are the villa's main characteristic. The simple Corfiot style exterior hides a very stylish and warm interior. Most of the materials that have been used in the villa are restored and reused due to the owners' strong belief in protecting the environment. Many of those came from a neoclassical house that was demolished in Athens while others are local and from Corfu Town.
The asymmetrical wooden beamed ceiling covers both floors apart of the lounge and dining area which sit on the ground floor and have the height of both floors. This room is large, full of ample natural light and has an internal balcony where the study is. The wall with the big fireplace is made of stone with beautiful brick features. Next to it is the large kitchen with the impressive, original floor tiles and its wooden ceiling. Both rooms have access to the covered veranda that runs along the villa's side.
Stone floor, wooden beamed ceiling and an exterior fireplace create the perfect outdoor environment for al fresco dining, even in the mild winter days.
There are two bedrooms on the ground floor - one en-suite - a separate bathroom, the cloakroom and the laundry room. On the first floor is the beautiful master bedroom, a second bedroom and a bathroom. Both bedrooms have wooden floors and wooden beamed ceilings.
The garden is nicely maintained with the swimming pool sitting on a lower level at the right side of the house. All this area is stone tiles as well as the swimming pool. There is a covered area just before it, also ideal for dining, relaxing or protection from the sun in the hot summer days.
The property overlooks the beautiful west coast which is so different than the east one. The scenery here is spectacular and wild with hills and cliffs separating the different long and sandy beaches which are located less than 1 kilometer away.
Characteristics
Main house: 300m2
Ground floor:
Living Room
Access to main terrace
Kitchen with doors to covered terrace, AGA cooker
Utility Room
Cloakroom
Twin Bedroom with en-suite shower and doors to main terrace
Twin bedroom and doors to main terrace
Vegetable & Fruit Garden
Garage
First floor:
Master Double Bedroom with en-suite bathroom
Double Bedroom
Study & Gym
Features & Amenities
Wi-Fi Access
Apple TV
Air conditioning in four bedrooms
iPod dock
Private swimming pool
Dining & lounge areas
BBQ
Location
Closest airport: Corfu Airport, 20 min drive
Closest port: Corfu, 20 min drive
Closest town: Corfu, 20 min drive
Beach of Kontogialos: 5 minutes walking, small port 5 minutes
Beach of Glyfada, Yaliskari, Mirtiotissa: 5 minutes by car
This is a truly wonderful home...
"This is a truly wonderful home, great comfort, style and above all else it has a welcoming atmosphere. The grounds and views are exceptional as is the private location with good space for vehicles. I loved staying here and will go again as soon as I can arrange a trip to the magical Corfu"
— Pamela
A piece of paradise!...
"Amazing place and very nice people! The interior is very cozy with strong details. The garden and the view of the sea is a piece of paradise!"
— Magedelena
Beautiful decoration...
"Dutch owned, located on Corfu, Villa Cecilia, owes much to traditional northern European house design; with living areas that are spacious and high ceilinged. Neutral colours throughout and skilful use of natural materials provide the perfect setting for a few handsome antiques and beautiful decoration and furnishing."
— ELLE Decoration Magazine
The Ionian island of Corfu has been described as a precious hidden emerald and during the quieter months away from the high summer season, it shines even more brightly. Discerning visitors can enjoy the real Corfu when the beauty, quality and charm of this enchanting isle are truly revealed.
With the bluest of skies against olive green hills, comfortable temperatures and a quieter, more relaxed feel, it is a dream location. People return to a more traditional, softer pace of life, appreciating the simple things. It's the time to relax and enjoy tranquil peace with good company, warm hospitality and generous spirit.
The relaxed yet stylish ambience of Villa Cecilia allows you to unwind and enjoy your Corfu experience at your own pace surrounded by elegance and charm. With consideration for your every need, you can savour the comforts of the villa, or take a step into a journey exploring the island and its delights!